Situated in a picturesque setting in the heart of Stamford, Lincolnshire, Sarah and her team offer a wide range of traditional beauty, nail, lash and brow treatments.
A premier salon in the heart of Stamford
Stamford Beauty was founded in October 2010 by Sarah Taylor who has achieved the highest accolade in Beauty Therapy with qualifications from ITEC, CIBTAC and the world renowned CIDESCO. This, along with over 30 years qualified in the industry has given Sarah the experience and knowledge to own and run the salon successfully for the past 7 years.
In March 2013, Sarah and her husband Pete decided to expand the business and it has since continued to grow. As a salon, we pride ourselves on the tight knit team that we have and the the genuine love of the job that we offer and I do believe that this shows on entering the salon. We are one big 'Stamford Beauty Family' and we all have a great working relationship. Customer service and providing excellent treatments is absolutely essential in all areas of our job and we pride ourselves on these being second to none. Training is essential for the team at Stamford Beauty on a regular basis. This can be ensuring that we offer new treatments as required and refreshing and updating our existing skills.
We all very much welcome you into our salon and look forward to seeing you very soon.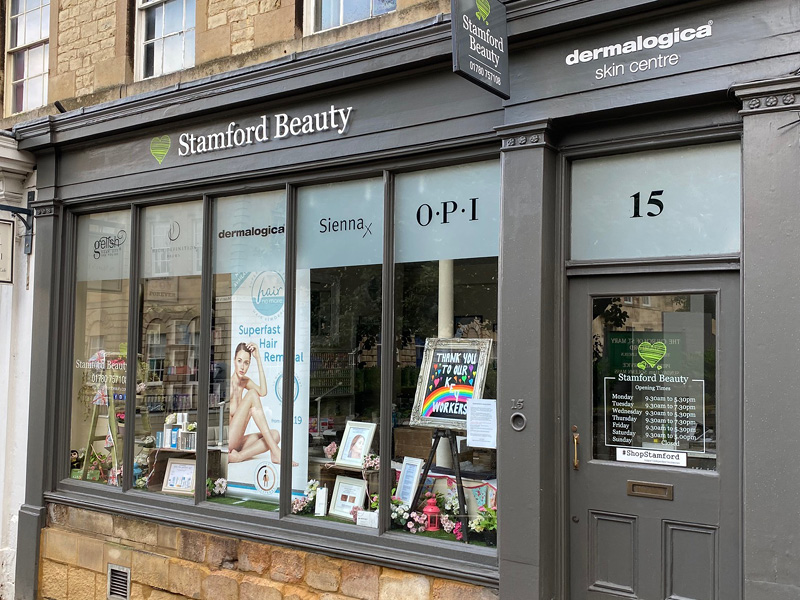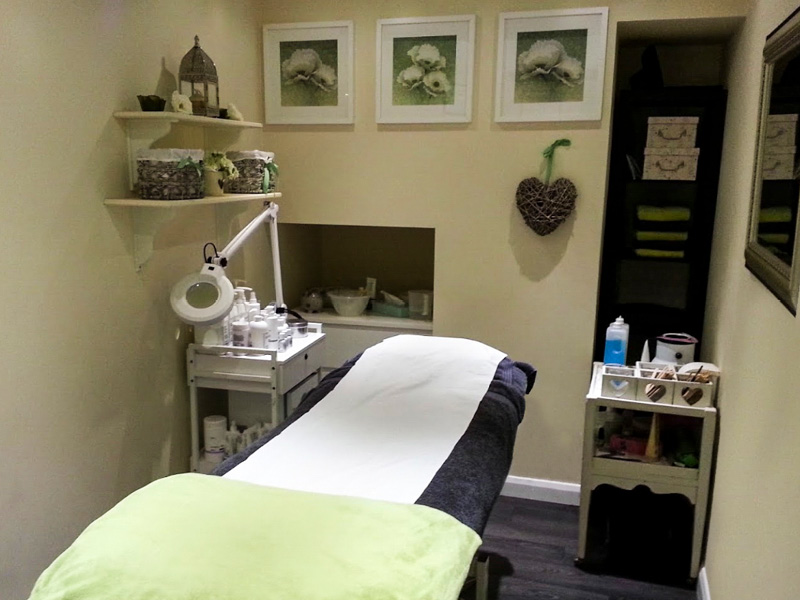 We work with some of the top brands on the market including leading Skincare brand Dermalogica.. Our continued commitment to training with this incredible brand has given us a huge amount of knowledge and allowed us to become experts in the skincare brand and we have been awarded 'DermCircle' awards every year from 2013 to present. This is a highly commended award that we are very proud of.
Other brands we offer, include OPI, Morgan Taylor and Harmony Gelish for Hand and Nail treatments along with Nouveau Individual Classic Lash Extensions, High Definition Brows, LVL Lash lifting treatment and the amazing 'New' SVS individual Lash extensions offering a natural or very full look by our advanced Lash technicians Natalie and Amy. Sienna X are used to offer a very natural spray tan, perfect for the sun kissed look we all love for Proms, Balls, parties and Weddings and not forgetting that pre holiday glow, allowing your natural tan to develop. We are well known for our waxing treatments and use the fabulous Perron Rigot brand in both hot and warm formulations offering a more comfortable waxing experience in any area.
View Bio
Training in Beauty Therapy on leaving school back in 1986, I feel very proud to have achieved the worlds' prestigious CIDESCO qualification in Aesthetics and Beauty and was presented with Honours and  'Student of the Year' on completion of the course….
All of these years on, I am still incredibly passionate about my work and love to make people feel confident, happy and good about themselves.
As a Beauty Therapist, our job is so varied, with every day, even every hour, there are different treatments to enjoy….
My true passion is the Dermalogica Skin Treatments and following their intensive training schedule with the International Dermal Institute, I have achieved Dermalogica Skin expert status. The ongoing education enables me to offer the most up to date skin treatments and  to see the transformation in my clients skin following my treatment and home care recommendations.
View Bio
Sarah's husband, builder, carpenter and general help….
A Director of my own building company for many years, I have had to re adjust my career due to sudden ill health back in 20I0 and as I was recovering from this, a life changing condition was diagnosed in 2014 which has progressed and I have been unable to continue with my job. Having fitted 3 salons out for Sarah over the years, I am very much at the forefront of the development of Stamford Beauty and work alongside the team in and out of the salon.
View Bio
I have been a Beauty therapist for over 11 years now, and joined Stamford Beauty on my return to work following my maternity leave 4 years ago. As my children are still very young, I work part time but I am proud to have achieved my Dermalogica Skin Expert title. I have undergone the intensive training with The International Dermal Institute to reach this status and continue to train in new innovations, treatment techniques and technologies. I really enjoy the variety of my job and love to see the physical transformation in treatments like the Lash lifts by Nouveau Lashes and Gelish manicures and the positive effect that Massage has on the mind and wellbeing of my clients and the relaxation Massage provides.
View Bio
I am a senior Beauty therapist and have been part of the Stamford Beauty team for nearly 5 years. I completed my full beauty NVQ training at Burghley Academy in Peterborough and  I offer a range of treatments in salon. I thoroughly enjoy all aspects of my job but I do specialise in Skin treatments… They are my passion! I just love to see my clients' faces when they open their eyes after a relaxing facial to beautiful glowing skin! 
Following intensive training with the International Dermal Institute, I am a Dermalogica skin Expert, and I attend regular training to improve my knowledge, new techniques and product revolution. At Stamford Beauty, I will tailor your treatment to exactly how you feel that day… if you feel you want a chat or a giggle with your Gelish manicure… or much needed rest with your face treatment.
View Bio
Ever since being at school, I knew I always had a passion for beauty. It was something that excited me! I trained at Burghley Academy and gained my level 2 and 3. And along the way I have developed new and current skills that approach the market. I haven't looked back and now with over 12 years' experience I'm still loving my work and always learning from my team. Having a young family, I work part time at Stamford Beauty, 3 days a week and have been there 4 years now.  I really enjoy that every day is different and there is such a variation of treatments to work with. Working with so many treatments, it allows you to find areas that you particularly enjoy and I absolutely love waxing… I offer both warm strip waxing and specialise in intimate female waxing using a hot wax. Another treatment that I love to do is Massage… I may be little but if you enjoy a firm massage, I am your therapist!   I really do feel so lucky to love my job.
View Bio
I've been qualified for over 10 years since completing my training at Cambridge College. Since I have qualified, I have gained extra qualifications in Eyelash extensions, HD Brows, Intimate waxing and became a Dermalogica Expert. I joined the team at Stamford Beauty in the Summer of 2018, and since working here, I have developed a keen interest in Lash extensions and the Nouveau LVL Lash lifts to which I now specialise.
Dr Deborah
Medical Aesthetician
BChD, (Bachelor of Dental Surgery and former Dental Surgeon)
View Bio
Here at Stamford Beauty we work in partnership with our qualified, Medical Facial Aesthetic Clinician, Dr. Deborah, who offers natural, non-surgical facial enhancements. 
Our clinician works full-time in medical aesthetics and has undertaken regular clinics with us for over five years, completing 8000 cases in that time. Clinics are offered on both a Tuesday and Thursday including some evening appointments.
Dr. Deborah gained her degree in 2001 and in 2010 completed further training in Injectable Aesthetic Medicine at a world-renowned training academy in London.       She is amongst a selection of postgraduate clinicians who have studied under Prof. Bob Khanna (President of the International Academy of Facial Aesthetics).
In February, Dr. Deborah had her portfolio approved by a Manchester training institute to study for the new HEE and OFQUAL approved Level 7 qualification in Medical Injectable Aesthetics, when it is launched next year. Level 7 will be a further postgraduate qualification and is offered to clinicians who will then be amongst the highest tier of the industry.

Contact Stamford Beauty:
15 St Marys Hill, Stamford, Lincs, PE9 2DP
T: 01780 757108
E: info@stamfordbeauty.com
Opening Hours:
Monday 9.30am - 5.30pm
Tuesday 9.30am - 7.30pm
Wednesday 9.30am - 5.30pm
Thursday 9.30am - 7.30pm
Friday 9.30am - 5.30pm
Saturday 9.30am - 4.30pm
Out of hours appointments available on request